The leaves are changing and the time is coming to put away the summer grill. 
Besides regularly removing spots and gunk after each use it's a good idea to give your grill a deep clean after a few months of heavy use. Here's the simplest yet most thorough way to clean your grill.
Preparation: 

Grill brush
Bucket of soapy water
Empty bucket for debris
Old sponge.
Step 1: Preparation
Assemble the preparation items listed above. The create an effective soapy solution that bites through gunk and grease fill a buck with warm water and drop 1 Dropps Oxi Booster pac into the liquid. Allow it to dissolve and stir gently! 
Step 2: Clean the Grate
Without holding back, scrape the grate to remove all stuck gunk and vegetable leftovers. Use both the bristles and the flat metal blade for extra leverage.
Remove the grate and turn it over to reveal the underside, notice the debris. Scrape away debris so that the grate is totally gunk-free.
Step 3: Clean Burner Protectors
The burner protectors reside just above the burner to prevent the burner mechanisms from becoming clogged. Remove all burner protectors. Using the soapy water bucket, wash each burner protector with a sponge.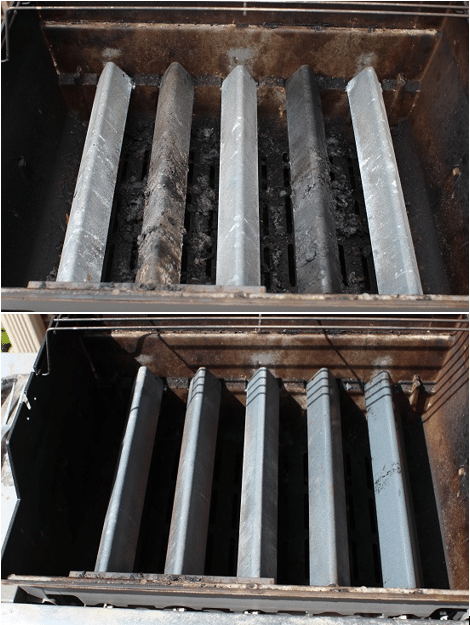 Step 4: Clean Burners
If your are able to remove the burners themselves, do so and clean them with soapy water. If it is difficult to remove the burners, use a damp sponge to remove the grime.
Step 5: Clean Bottom of the Grill
At the bottom of the grill, below the burners, are plates that collect large chunks of debris and ashen food. Remove the plates, they should come out easily, and scrape off all debris with the grill brush into the debris bucket. As this is the place where most gunk accumulates it will be very difficult (and unnecessary) to clean this area with soap and sponge. Try to get as much debris off as you can.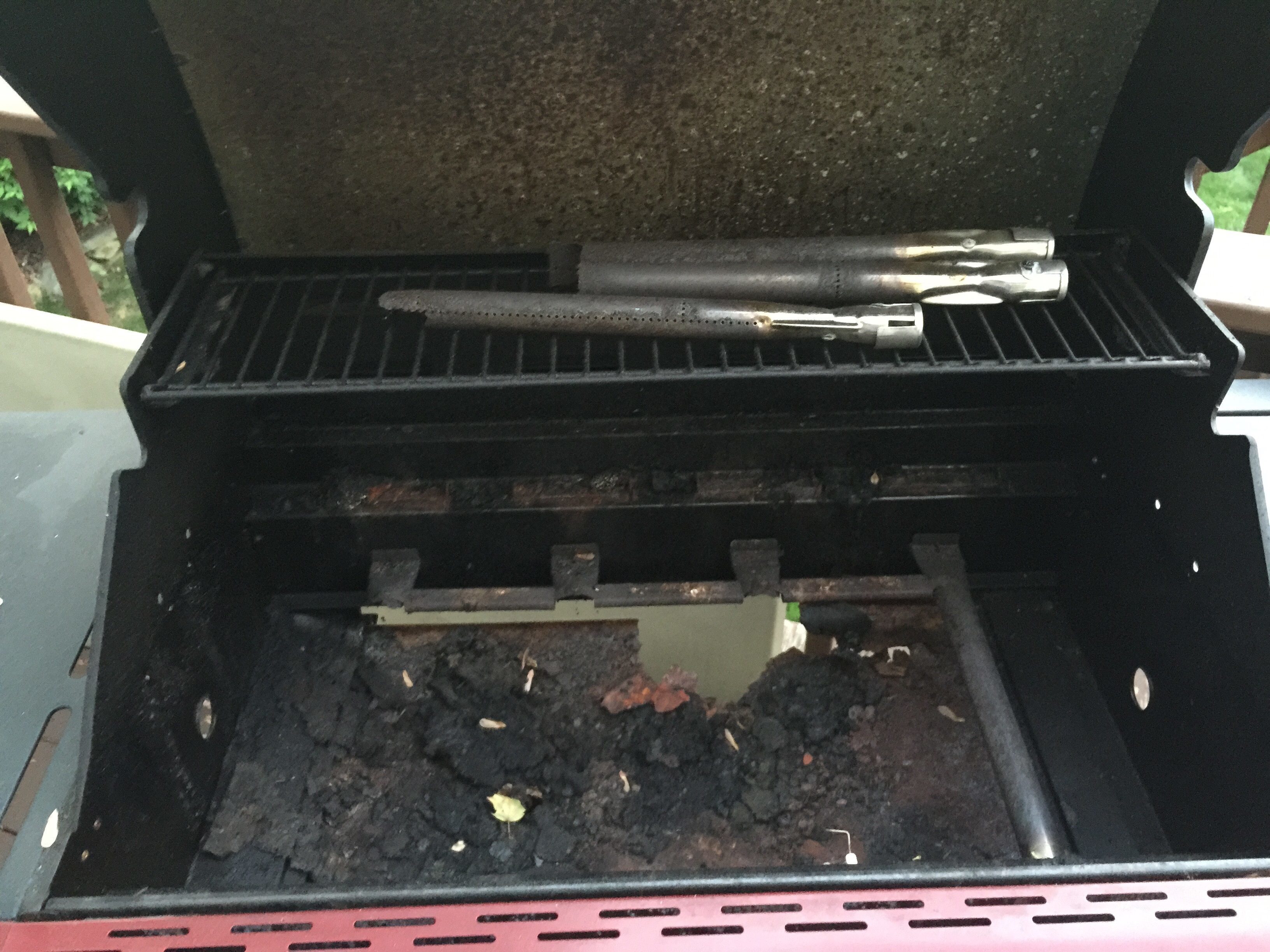 Step 6: Remove Final Debris
Once the plates are out, all that remains is the removable bottom tray. With the grill brush, scrape any extra debris on the tray and dump into the dirty bucket. Continue until all debris is removed from the bottom of the grill.
Step 7: Reassemble Grill
The final step is to retrace your steps and put the grill back together. Bottom tray, plates, burners, burner protectors, and the grate! 
You'll thank yourself come spring for the clean grill!
For more resources, photos and grill cleaning inspiration visit: http://www.artofmanliness.com/2015/05/14/how-to-clean-and-maintain-a-gas-grill/