Keep track of your dishes
Just stick the magnet on your washer, and rotate to indicate whether the contents inside are dirty or clean.
Sustainability is a journey
We're making products that are good for you and the planet.
Customer Reviews
Write a Review
Ask a Question
Filter Reviews:
magnet
dishwasher
issue
refrigerator
others
needs
reason
problem
clean
surfaces
Great magnet, but it peeled immediately
I really love this magnet, but it's so thin that trying to remove it to flip sides caused the top layer to peel within one use.
May 2022
Dishwasher magnet
Generally I love it. The only issue is that it needs a tab to enable user to flip it easily. I have to keep it so it goes slightly beyond the dishwasher door. Otherwise I would need a tool to release the magnet to flip.
November 2021
Pretty good
It's nice- but came in a bent envelope, so it was a little bent to begin with but it wasn't a deal breaker for me. Still sticks well and does what it's designed to do. My only real issue is it doesn't seem very durable. If I'm not super slow and intentional when peeling it off to turn it around, my (natural, shorter) nails peel off a little of the parameter. I don't think it will last super long- but it's doing it's job now so I'm pretty happy.
August 2021
It won't stick to my dishwasher
I actually love the magnet and it sticks to my refrigerator no problem, but won't stick to my dishwasher. Now, my dishwasher is probably 20+ years old, so that could be the reason. And we are looking to get a new one in the near future, so I will keep this for them. Only reason I gave it 4 stars is because I can't actually use it where originally planned, but my fridge is close by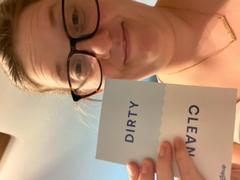 July 2021
Helpful
Finally a sign that I can use for my dishwasher. And that is big lettered. Its simple but it fits my exact needs.
January 2021
Love it!
Great magnet! It has been unexpectedly useful for us to know what is happening in our dishwasher. I would like a knob or handle to pull it off easier but I also like that it is flat for an easy clean. Great product!
January 2021
Dishwahser magnet
It's adorable. One for myself, others for gifts. Unfortunatly, some new dishwashers have non-magnetic surfaces.
December 2020