Sustainable Detergents That Just Work
Sustainable Detergents That Just Work
Experience powerful cleaning at a great price! Save up to $60 + enjoy free shipping on bundled detergents.
Over 100,000 Happy Customers
Over 100,000 Happy Customers
Dropps' perfectly portioned pods offer you a complete home clean that you can feel good about. It's the switch you wish you'd made sooner.
We eliminate the unnecessary, harmful, and wasteful elements of traditional cleaners.

No Mess
We ditch the messy pouring and heavy jugs for a simpler, cleaner way to clean.

No Stress
We specialize in easy, convenient cleaning so you can spend more time on what's important.

No B.S. (bad stuff)
Our ultra-concentrated formulas are free from harmful chemicals, added fillers, or excess water.
DROPPS IS FOR YOUR CLOTHES...
Stains and stink don't stand a chance against our powerful, concentrated detergent made to handle tough messes while prioritizing the health of your family and quality of your clothes.
... AND YOUR DIRTIEST DISHES
Nobody wants to wash the same dish twice. And nobody wants toxic residues left behind. Our oxygen-based detergent powers away stuck-on food for cleaning you can trust (and eat off of).
"I'm never
switching back!"
"I'm never
switching back!"
Join 100,000+ happy customers who trust Dropps for easy and effective cleaning.
Powerful Cleaning
Plant-Based Ingredients
30-day Risk Free Trial
Manufactured in the U.S.A.
Helps reduce single-use plastic
Compatible with all machines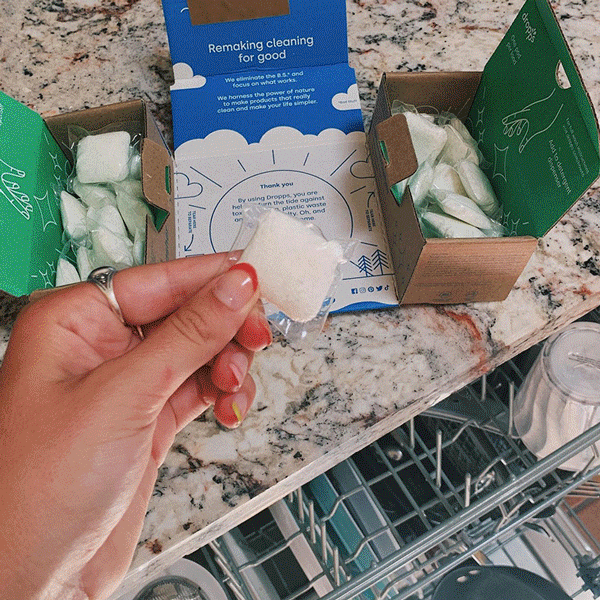 A smaller footprint leaves a big impact.
A smaller footprint leaves a big impact.
Real impact doesn't happen overnight! Dropps Annual Impact Report gives you a glimpse into our impact-related priorities, with respect to environmental sustainability, our people, and our communities.
Frequently Asked Questions
Learn more about our laundry detergent and dishwasher detergent pods.
Don't miss this limited offer.
Don't miss this limited offer.
We put together your complete Dropps cleaning toolkit in our curated bundles. Available to you at a special discount!