We know laundry isn't everyone's favorite chore, but it doesn't have to be boring! Instead of dreading laundry day week after week, resolve to take a few steps to make it effortless and even fun!
Set your schedule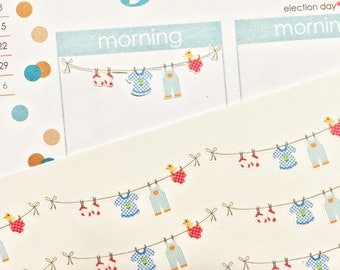 Photo: Etsy
Dirty laundry tends to pile up quicker than we realize, eventually leaving you with three or four loads of laundry to be done at once—yuck! The worst part? Doing that much laundry can take up most of your day. Instead, set aside a window of time (Sunday mornings are our favorite!) once or twice each week for laundry, and stick to it! Creating a habit of doing laundry at the same time each week will ensure that you don't end up putting it off until you've completely run out of socks.
Make sorting a breeze
Photo: She's Crafty
Eliminate the slow process of sorting whites and colors before each and every load of laundry by keeping separate laundry baskets! Have separate baskets for whites, colors, and darks so that everyone does their own sorting when dropping dirty laundry in the baskets.
Spice up your laundry room décor
Photo: SheKnows
Plain white walls are so last year; create a bright and unique atmosphere in your laundry room! Revamping your laundry area with just a few simple tips and tricks can boost your mood and bring some life to those weekly chores. We have some awesome ideas here!
Stop worrying about measuring
Toss out those giant, messy detergent jugs, and switch to pre-measured detergent pacs like Dropps! Using dissolvable laundry care pacs ensure no mess, and best of all, no more time wasted measuring out detergent and softener with each load! Dropps pacs always provide the perfect amount of detergent to deeply clean your clothes without leaving behind any sticky residue.
Use your laundry time to unwind
Photo: Currys
Many people use laundry time as a source of mediation; after a hectic week, the monotony of sort, wash, dry, fold can sure be soothing! Listen to music, read a book, or watch a movie, and take some time to relax!
Become a pro at folding
Photo: Container Store
Stop stressing over folding and refolding shirts until they look neat—invest in a folding board (we love this FlipFOLD one!) that will help you create a perfect fold effortlessly, every time! It keeps all folded garments the same size, making those piles of clothes so much easier to stack and store.
Include the whole family
When in doubt, make laundry a family event! Create an assembly line for sorting clothes, and have each family member fold their own clothes after the dry cycle. This will lighten your load (especially with a big family!), and it's also a great opportunity to teach kids how to do laundry on their own.
Happy Washing!